Customers often order their products online and opt for home delivery. However, this is never the most convenient solution, because there is a risk that parcel delivery service will deliver on time when customers are not at home. The shipping service provider must then determine a new delivery time or return the item to the customer at the point of delivery. With Smart Locker Click & Collect, everything becomes easier when the technology is optimized to bring convenience to busy customers.
Buy and receive products anytime
Convenient and easy to use technology
General Workflow (Sample)
Features of Smart Lockers
SmartLOCKER provides managers with functions superior to conventional lock lines. Now you can control, manage and operate the Locker system remotely.
Online Database Management
1. Real-time monitoring
Check real-time usage and user information
Access to online database
2. Online audit trail and lock information check
Check specific user's history and activities
Check usage and information on specific lockers
3. Remote maintenance
Change locker settings (ID Number, Time, etc)
Update or change access device information on specific lockers
Wireless Locker & Access Controls
1. Wireless locker connection
Users can unlock lockers from a kiosk up to a distance of 46 meters
Kiosk/terminals can be connected to an infinite number of lockers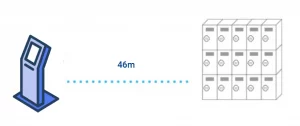 2. Blocking and granting access privilege
3. Multiple Locker Operation

4. Variety of access methods
1. Ability to integrate with both hardware and software