Emasi International Bilingual School
QT Emasi Bilingual School officially inaugurated after 1 year of construction with a total floor area of ​​more than 17,000 m2 and invested according to international standards, this will be one of a system of 10 schools from kindergarten to high school that is trained according to the curriculum of the Ministry of Education and Training and is internationally standardized with the Cambridge English program.
Implementing smart furniture at EMASI School
As an international school towards progressive educational standards, Emasi School focuses on providing quality facilities, focusing on building a learning environment for the students here.
Confident with smart school furniture solutions integrating many functions in one product, Nam Thuy Group gives Emasi a unique appearance while retaining its own brand characteristics.
Advantage of school locker ABS:
Environmentally friendly material
High durability, no rust, no termites
Smart design, safe for users.
Flexible assembly products, detachable, with optional number of cabinets, to meet different needs
The 12-color palette can be customized according to your preferences
Many lock options

Funiture at Emasi School
With versatile designs that can be used for many different purposes, Emasi School interiors create conditions for students to learn thanks to flexible, flexible layout, limiting the constriction and boredom as in traditional classrooms.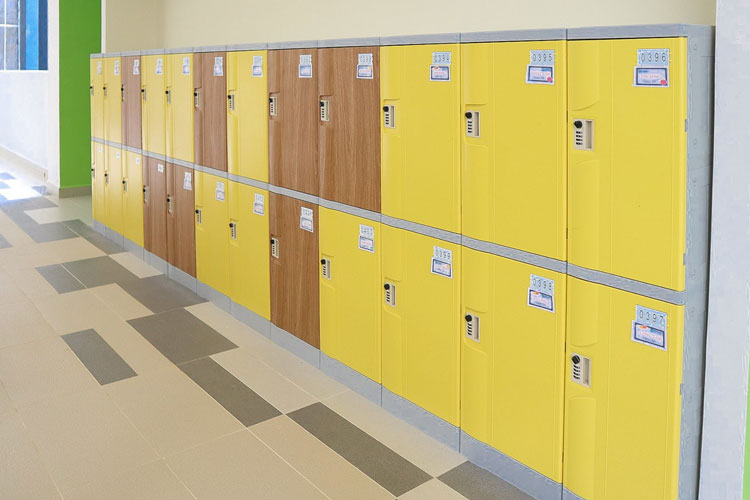 Locker in the school hallway
The spacious corridors at the school are ideal places to install rows of lockers, making the most of the space outside the classroom, giving the classroom more study space.
We hope that our products and services will always be the top choice of customers, and hope that Nam Thuy will accompany the Emasi QT system in the upcoming projects.
Emasi International Bilingual School QT Emasi Bilingual School officially inaugurated after 1 year of construction with a total floor area of ​​more than 17,000 m2 and invested according to international standards, this will be one of a system of 10 schools from kindergarten to high school that is trained according to the curriculum of the…